My degree piece is a staging of Giuseppe Verdi's opera Rigoletto based on blueprints of the Grand Theatre in Warsaw stage.I set my design at the outskirts of an unspecified city – the axis of the stage design is a crossing, an overwhelming string of buildings stretchingfor 45 metres, up to the backstage.As the action develops, the line between interior and exterior becomes blurred. The stage design becomes unreal. The costumes complement the spirit of the staging. My decision to set Rigoletto in such a world and space resulted from the ascertainment that complexity and intransigence of the street-life relationships are well-inscribed into the drama of this piece. Facades of the buildings reflect the echo of the doom upon Rigoletto. The protagonist looks at his reflection in store signboards, he feels scrutinised, errs in the maze bathed in neons.
In the city, from which there is no escape.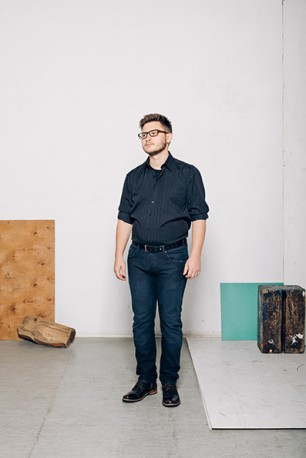 (born 1990)
Graduated from the Faculty of Stage Design of the Academy of Fine Arts in Warsaw (2015). Works in stage, set, costume and graphic design, music and poetry. Set designer for the documentary drama Radosław The Second (2014). Set design collaboration on Baby Bump (2015). Assistant to Leszek Mądzik: opera Cavalleria rusticana, Grand Theatre, Poznań (2015); productions From the Darkness, Royal Baths, Warsaw and The Woman's Time Stary Theatre, Lublin (2015). Honourable mention in the competition for the Jerzy Moskal Set Design Award, Festival of New Stage Design, Katowice (2015).