The synagogue in Tarnogród is a unique example of synagogal architecture, which miraculously survived German barbarity during the Second World War. The building has been well-preserved because of adaptation to serve as a library in the 1980s; modifications of the interior carried out at that time were supposed to streamline operations of the library, but unfortunately, they completely failed to display aesthetic values of the synagogue.
The objective of my project was to restore the original character to the interior, and to offer a new functional programme for this venue, which establishes a dialogue between tradition and modernity. I wanted to make a very modern addition to historical architectural substance found there.
The main hall of the synagogue has been equipped with a mobile multifunctional element; the system of modules will vary depending on necessary arrangements arising from the function –the basic arrangement will be a tourist information, other configurations will allow to organise a concert, lecture, or other cultural events.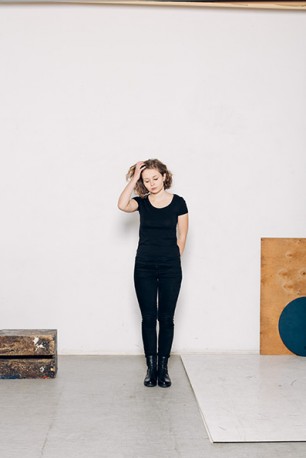 (born 1990)
First and second cycle studies at the Faculty of Interior Design of the Academy of Fine Arts in Warsaw in the years 2010-2015. Rector's scholarship for the best students of the Academy in the year 2014/15. Works in interior design and painting. Participated in the exhibition of undergraduate degree piecesOtwarty Jazdów, Warsaw, 2013, and Young Designers' post-contest exhibition (organised by ELLE Decoration) at the Design Centre Gallery in Gdynia, 2014.