Haptic cognition of visual arts by persons with blindness, on the example of tactile graphics.
Increasingly common extending of visual experience with haptic ones in the case of works of art is an opportunity for people who do not see. The aim of my work was to present tactile graphics in the context of getting to know visual arts by persons with blindness. I attempted to analyse this issue from the perspective of their perceptual capabilities, and an offer to participate in the culture addressed to them. Tactile graphics as the translation of a visual language into a tactile one is a very demanding method, both for the creator and the recipient. Therefore, as a complement to my research, I created a game A Dictionary of Art, enabling development of a situation where a person with blindness and person without blindness learn basic concepts of the history of art  as equivalent players.
Photos: Szymon Stępniak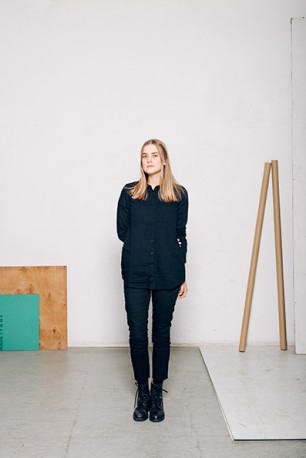 (born 1992)
Studies: the Faculty of Visual Culture (first-cycle 2012-2015, second-cycle from 2015). Rector's scholarship for the best students of the Academy in the year 2013/14. Internship in ŻAK | BRANICKA Gallery in 2013. Works in the lokal_30 Gallery in Warsaw.