The design objective of my degree piece – a book on Łódź– was to find a proper visual form to illustrate complex national relationships in the city before the second world war between its inhabitants: Poles, Germans, Jews and Russians. The book in ados-à-dos form, consisting of four separate parts bound with shared covers, is a metaphor of these dependencies. The book features inserts from the city museums and archives: job printings, posters, postcards, newspapers, letters, etc., allowing the reader to better understand the multicultural period in the history of the city, so tragically ended in 1939. In the contemporary city of Łódź there are no longer signs in Russian, German newspapers, or synagogues, which makes it easy to forget the rich past – so the book is a kind of a guide to the history of the city, a memoir of the past.
The book takes the reader on a 24-hour journey through the imagined city. Changes that are constantly taking place in the city, inspired me to use sketchy illustrations. Therefore my work on this project also consisted in the process of searching for my own visual language and use the potential of what is hidden in seemingly unfinished drawings.
In opposition to my project developed inthe Studio of Book Design, this book uses only universal language of pictures, accessible for everyone, regardless of age or place of birth.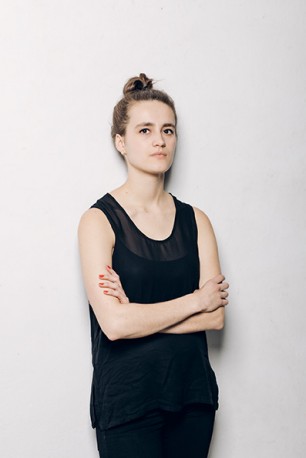 (born  1989)
Studied at the Faculty of Graphic Arts and Painting of the Academy of Fine Arts in Łódź (2009-2011) and the Faculty of Graphic Arts of the Academy of Fine Arts in Warsaw (2011-2015); internship in Berlin under the Erasmus Programme in 2012. Works in graphic design and illustration. Finalist of the 2014 IWP Good Design Competition (Warsaw central railway station logo; with Aneta Lewandowska); winner of the PKP and Association of Applied Graphic Artists (Warsaw central railway station logo, with Aneta Lewandowska; 2013). Work in the Prowizorka Studio. Projects for Sagmeister & Walsh, Universal Music Germany, Icon, among others.